Are you flying the first time on a plane— or flying after a very long time? It is going to the most exciting and life-changing adventure for you. However, it can be very stressful. The first time flying is certainly very exciting, but it also can become stressful for first time travelers who are not much familiar with the airport rules, customs and procedures of flying.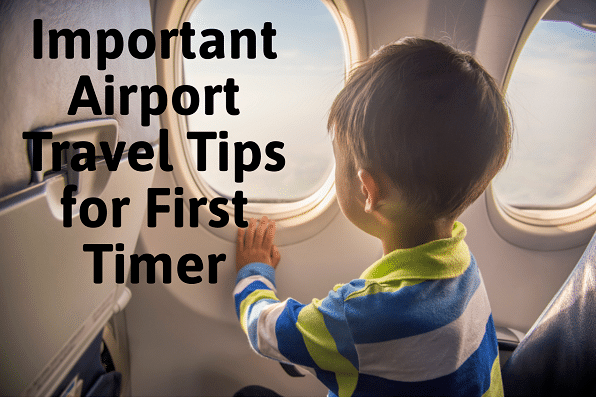 So, to get ready for the first flight, it's very important you get the right information on everything that you want to do before or during the journey. This step-by-step guide spells over everything that the first-time flyer has to know, right from the flight booking to navigating on the airport and getting ahead onto an airplane. We have come up with the best airport travel tips for the first-time flyers to get your ready for your first flight! Here are helpful pre-departure checklists to follow:
Confirm Your Flight
One night before your flight is scheduled, just check to ensure that everything is going as planned. After buying the ticket, you must have received the confirmation email from your airline. You need to check that confirmation email just to ensure that your flight is scheduled on time and will take off at the right time.
Suppose the time has changed, ensure to adjust the travel plans accordingly. That depends on how long the flight is delayed, it can also affect your connecting flights that you are planning to take. Suppose you're concerned that you may miss your connection due to your flight delay, you must contact the airline.
Continuously check on your flight status leading up to the arrival at an airport. Some airlines may send texts allowing you to know about any delays, but it is very important that you continue and check the situation. Be careful during the month of winter or if any bad weather is forecasted, as this can oftentimes affect the flight timings.
Pack All Your Documents
You won't be allowed on your airplane without your identification and ticket. For the travelers above 18, the passport or driver's license might suffice. Travelers below the age of 18 and traveling with the adult companion might not need to show any identification.
Suppose you are below 18 years of age and traveling alone, you must contact appropriate authority to know what ID forms you may require.
Suppose you're traveling internationally, you won't be allowed on a plane without your passport.
In case, you arrive at an airport without your identification, you can fly anyway. Also, you will need to fill out any additional forms or answers a few TSA questions to confirm your ID.
Always keep all your documents handy. It is because you will have to show them while you check-in and when you pass through the security, so do not pack it in the hard to reach the place.
Reach the Airport Before Time
Anything may happen when first time flying; like having troubles to reach the airport, late check-in, and for some worst scenario like missing your flight. So, you can easily avoid these troubles by just reaching the airport one to two hours before your actual departure time.
Find Out Your Airline
The first thing that you will have to do the moment you arrive at the airport is locating your airline. The airports are generally divided into terminals, and various airlines are housed at different terminals. There're different terminals for the arrivals and departures. So, you will have to go to the departure terminal for the airline.
You will know what terminal your airplane is by looking online or asking the staff working at the airport. Suppose you're taking the mass transportation or somebody is dropping you off on the airport, ensure you make them know the airline that you are flying out so that they leave you at the right building.
Get your Ticket and ID Ready for the Check-in
On check-in, you have to show your identity card and ticket. At a counter check-in, an e-ticket is enough for you to get the boarding pass. You just need to show your ticket through the app without printing it. Always keep your phone and ID in a place, which is simple to reach. Suppose you are doing online check-in using an airline website (48hours before your flight), with the help of e-ticket you can easily find the PNR code, which is needed for the web-check in.
Never Bring Illegal or Prohibited Items
Before you board your plane, you should be aware of certain things that you must not bring with you when first time flying. Things that are prohibited must not be there in your luggage, or you may be stopped to take it out by force, or charged with the heavy penalty. Also, any of your bags that aren't put in the cargo must be checked & declared. However, there are some kinds of items, which aren't allowed inside your bag and inside an airline cabin.
Register Baggage on Check-in for a Smooth Journey
Do not bring all your stuff in the cabin. That is because there's the maximum capacity for the cabin bag (generally 7 kg, but check out your airline website to ensure). You can take your valuables on the plane with you like your phone, jewelry, wallet, and more, preferably in one bag. However, what happens when your luggage bag surpasses the capacity allowance? Suppose that ever happens you can upgrade the baggage capacity just by paying some fee.
Do not go to the Wrong Departure Gate
Suppose you get to a wrong departure gate, then you may miss your flight, particularly if you are rushing over the last-minutely. On check-in, you are given one piece of your boarding pass –that is your ticket to board your plane. The boarding pass includes all the details like flight number, gate number, seat number, and more. Ensure you are close to the gate.
When Boarded, Follow Airline Rules
When you settle on to your seat comfortable, you will be told to turn off your phone so that it does not interfere with the navigation system, and put on the safety belt as shown and instructed by an airline cabin crew. Do not go against the rules, and do follow all the instructions for your safety purposes.
What to do upon Arrival?
Waiting for your Luggage
Wait at the right belt to retrieve your baggage. Finally, you touch down after the smooth flight. What comes next?
Do not Switch on your Phone
It is not very surprising to see passengers switching on the phones before they even exit the airplane. Never do it. This can hinder the communication of the pilot and air traffic controller. So, wait till you enter an arrival hall.
Wait there Patiently for your Baggage to Arrive
So, whatever you put in your airline cargo on check-in will come out eventually. Do not forget to collect the luggage! Before you enter the baggage queue, check your flight number and city of departure that will be written on a screen of each belt just to ensure you are waiting at the right spot.
Check out luggage number provided to you on check-in, sticker having numbers, generally stuck on the boarding pass. Do not forget to count the number of suitcases and other luggage that you have. It is to make sure no bags are left behind.
Well, that is how this process works. We really hope that this airport travel tips will help you out in small ways and get through the first experience of airplane travelling. Very importantly, always stay calm and do not be shy in asking questions and getting help from the airport staff if you want any help or assistance.
Quick Travel Tips
When you get your e-ticket, choose your meal & pre-book your seat that you want to travel in.
Check out if your master card offers you any lounge access.
You should register your phone number with an airline – so that you can get the message if there is any delay or reschedule in the flight.
Keep your ear out for any pre-landing announcement – and you will get updated on the weather conditions in your destination & belt number your checked-in luggage will arrive.
The cabin crew will help you out with emergency medicines or socks or blankets if required.
The Climax
Finally, you can tour and explore on your own, and enjoy your trip!  So, grab your baggage from the carousel, complete your immigration process if on the international flight and head for an exit. Happy Holidays!